Dining Room Skylights
Enhance your eating area with beautifully designed dining room skylights. Our skylights allow for natural sunlight to beam through the room and have you dining underneath a clear or cloudy sky – either way, it's definitely one way to bring the outside in!
They have the power to completely change the look and feel of a room, and while they offer additional value and design appeal to your home, they are so much more than that. Dining room skylights create a much more open plan feel to your eating area and they can reduce your energy usage and energy bills. Adding glass dining room rooflights to low ceilings can make it feel higher too.
Dining Room Rooflights
We provide an extensive selection of dining room rooflights to suit all and any specifications. Is it time to upgrade your dining room with a skylight? Please don't hesitate to get in touch with us, one of our experts will be more than happy to advise you on the best rooflight for your project.
Tap the button to browse our full range, or use the form at the bottom to request a call to discuss your needs.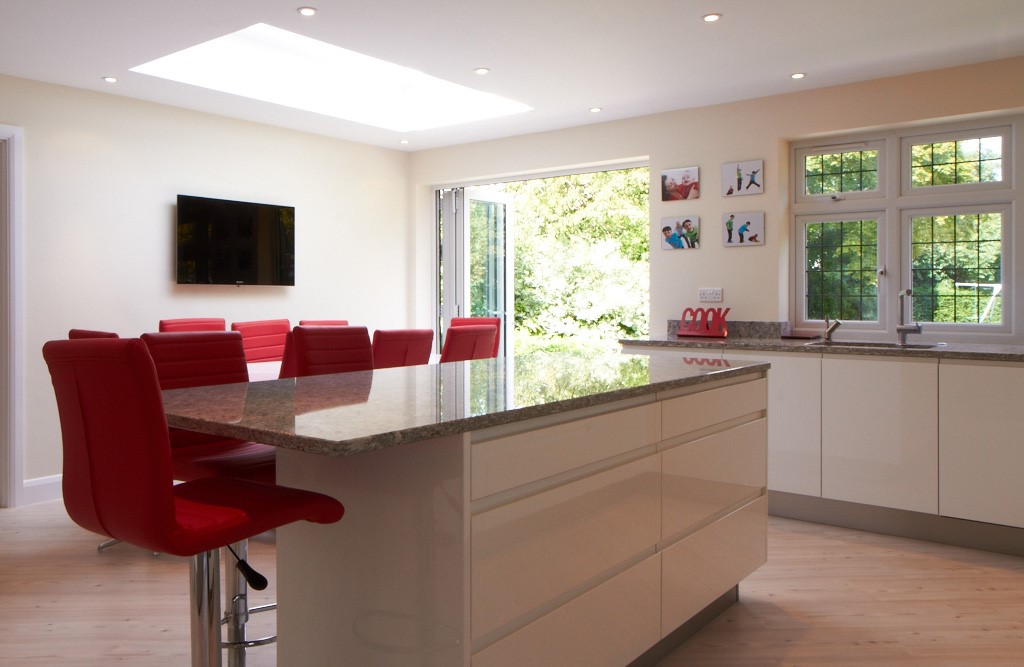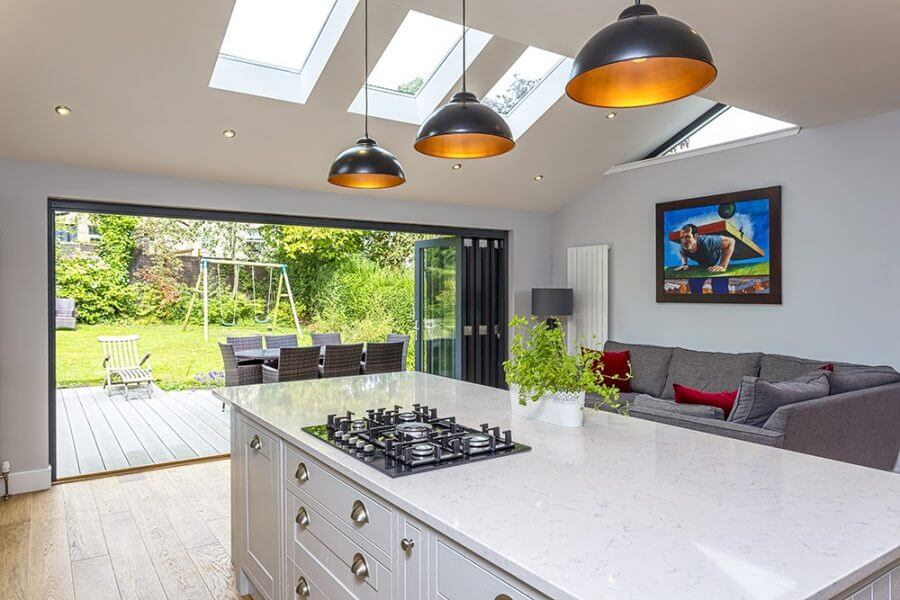 10 Year Guarantee

Prompt Nationwide Delivery

Excellent Service
FAQS
What Are The Benefits Of Having A Dining Room Skylight?

Having a dining room skylight will provide you with a host of benefits including better air quality, increased access to natural light, and a greater aesthetic appeal. Firstly, if you choose to install an opening dining room skylight, you can let fresh air in while you're eating, which will discourage feelings of stuffiness and create a more pleasant experience. Increased natural light is always beneficial, not only for the aesthetic appeal of your dining room but also for your overall mood, as natural light helps to boost serotonin levels.

How Much Does A Dining Room Skylight Cost?

Our

Korniche rooflights

have a starting price of £600. But the general cost of a dining room skylight depends entirely on several factors, the type of rooflight you choose to install, the type of glass you want, and any additional features you may include. Here at Rooflight Centre, we ensure that every skylight we sell is available in various sizes to guarantee a fit for your home. However, if you need a size bigger than what you can see is available you can contact us for a bespoke rooflight quote!

What Is The Best Type Of Rooflight For A Dining Room?

The best kind of dining room skylight is an opening rooflight. Not only are they secure and designed to weather years of varying temperatures, but they also provide fantastic insulation and ventilation for your dining room. The option to control the temperature and the amount of air in your dining room can help exponentially with not only your mood but the likelihood of mould development.

Are Dining Room Rooflights Easy To Clean?

Dining room skylights are incredibly easy to clean. Cleaning them only requires warm water, a sponge, and a very mild detergent. The warm water will help to lift the dirt from the rooflight, and the detergent will gently remove it without compromising the quality of your rooflight. Silicone sealants and metal frames don't respond well to harsh cleaning products, as they can cause premature deterioration and generally make your bedroom skylight look a bit mucky. So you should ensure to follow these guidelines.

Will A Dining Room Skylight Discourage Mould?

Due to the additional ventilation provided by dining room skylights, there are less opportunities for mould to develop, and spread. Mould thrives on moisture and warmth. So, by removing both of those conditions with an opening rooflight, you'll find that the amount of any existing mould in your dining room will decrease, and the possibility of mould developing will become less likely.