10 Year Guarantee

Prompt Nationwide Delivery

Excellent Service
Bifold Doors
Bifold doors are suitable for a wide range of settings; they enhance homes of every size including contemporary configurations and also offer designs which look wonderful in traditional homes, often adding great value to a property.
Bifolding doors provide wide, open access to the outdoors when open and give an interrupted view when closed. They can replace a whole wall of the home, creating a bright and airy option to what may have previously been a dark space. Bifold doors make a flat threshold solution, ideal for small children, the elderly and the disabled. A traffic door creates easy internal and external access without opening the bifold all the way.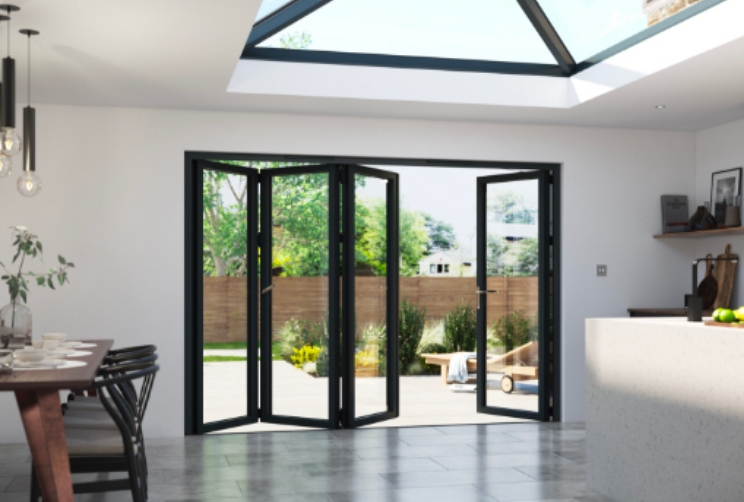 Korniche Bifold Doors
Korniche bifold doors use industry leading technology to help regulate the temperature. Using industry-leading Q-Ion, a new non-silicone sealing technology, korniche bifolding doors are efficient at keeping the heat in during the winter and cool in during the summer.
Korniche doors also come fitted with a deep thermal broken profile, the bigger the breaks, the better the U-values: the rate of transfer of heat through a structure. Of course, they are fitted with high-quality glazing as standard.
Finally, korniche bifolding doors are constructed out of a one piece welded gasket, which eliminates any potential leakages where gaskets meet on other similar products.
Korniche bifold doors offer the highest level of security available with durable anti-corrosive frames made from aluminium. All doors are rigorously tested and are certified to a very high standard. The shoot-bolt handle has a unique antibackdrive feature which means a forced entry attempt can't rotate the handle to open the door. The doors are also internally glazed using a patented clip glazing bead that offers reliable and robust security.
Discover just how competitive our prices are by clicking the button below.