Orangery Skylights
Orangery skylights are arguably where the whole idea of skylights started. In the gardens of Renaissance Italy, large sheets of glass were produced by new glassmaking technology and innovative horticulturalists used this to create the next logical step from a walled garden (which protects plants during winter). These new rooms, sometimes entire buildings, could be used to grow plants often restricted to tropical countries, hence the name orangery. Today, the name often describes a more structurally sound conservatory, often made of as much brick as it is glass and used as living spaces. We have provided orangery skylights to prestigious buildings such as Buckingham Palace, as well as the average home.
Orangery Rooflights
The most popular orangery rooflights we provide are opening skylights and bespoke skylights. Opening orangery rooflights, especially electric ones, allow greater atmospheric control, which is particularly important in growing tropical plants, whilst allowing living spaces to breathe during the warmer months. Bespoke skylights for orangeries are popular because they allow the construction of completely unique, beautiful designs. Our expertise in bespoke rooflights is why many of the finest orangeries in the UK have been built with our glass.
Tap the button to browse our full range, or use the form at the bottom to request a call to discuss your needs.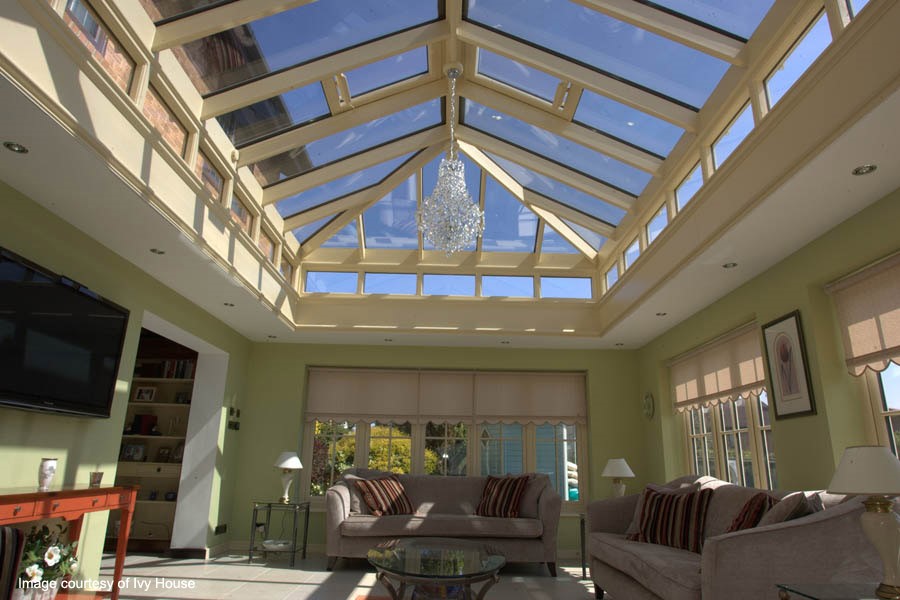 FAQS
Will A Rooflight Help With Orangery Insulation?

Orangery roof lights are fantastic insulators. Their insulating properties can mainly be attributed to the double glazing used for the glass, which helps to significantly reduce heat loss. Orangery roof lights are especially efficient in the winter, as they will help to regulate the internal temperature and reduce the need for constant artificial heat.

Can Rooflights Be Installed On A Pitched Orangery Roof?

Yes! Orangery rooflights, and any other rooflight for that matter, are installed the same as on flat roofs. There is no difference aside from the angle at which the roof is built.

Will Rooflights Discourage Mould In An Orangery?

Due to the additional ventilation provided by orangery rooflights, there are less opportunities for mould to develop, and spread. Mould thrives on moisture and warmth. So, by removing both of those conditions with an opening rooflight, you'll find that the amount of any existing mould in your orangery will decrease, and the possibility of mould developing will become less likely.

Are Rooflights In An Orangery Easy To Clean?

Orangery rooflights are incredibly easy to clean. Cleaning them only requires warm water, a sponge, and a very mild detergent. The warm water will help to lift the dirt from the rooflight, and the detergent will gently remove it without compromising the quality of your rooflight. Silicone sealants and metal frames don't respond well to harsh cleaning products, as they can cause premature deterioration and generally make your orangery rooflight look a bit mucky. So you should ensure to follow these guidelines.

How Much Does An Orangery Rooflight Cost?

Our

Korniche rooflights

Korniche Rooflights have a starting price of £600. But the general cost of an orangery rooflight depends entirely on several factors, the type of rooflight you choose to install, the type of glass you want, and any additional features you may include. Here at Rooflight Centre, we ensure that every skylight we sell is available in various sizes to guarantee a fit for your orangery. However, if you need a size bigger than what you can see is available you can contact us for a bespoke rooflight quote!