If you're looking for kitchen remodel ideas but want to delve a little deeper into 2023 interior trends to evaluate whether your modern contemporary kitchen design will still be fashionable by December, this article is for you. In this month's blog by The Rooflight Centre, we'll discuss a few kitchen remodel ideas that are projected to boom in popularity over the coming months and a few old trends that will be circling back.
Slab Backsplash
Backsplashes are a great thing to consider when determining the kitchen remodel ideas you decide to go for, as they're extremely effective at protecting your walls from various types of liquids, including grease, water, and food ingredients. Without a splashback, the wall behind your sink or cooker could become oversaturated with these substances, any paint you have may peel away, and any tiles could become stained. We're noticing that the 2023 interior trends of splashbacks are seeing them become far less tiled, and far more continuous. Homeowners are opting to use a single slab of granite, quartz or marble rather than a series of tiles. Splashbacks are great statement pieces and will add a nice touch of variation to your walls.
Plants
You may have noticed that modern contemporary kitchen design often consists of an abundance of plants. Organic decoration is very popular right now as we try to move away from expensive and materialistic kitchen pieces and towards more natural and cosy decoration. So, make some room in your kitchen remodel ideas to place a few plants on the countertops, shelves, or tables. 
Dining Islands
Traditionally, kitchen islands are used as extra storage, seating, and meal preparation space. But in modern contemporary kitchen design, kitchen islands are more frequently used in place of a dining table. 2023 interior trends are looking to value smart use of space more, redefining the uses for the features in your kitchen and reducing the number of surfaces can not only help your kitchen to look more spacious but also more well-planned.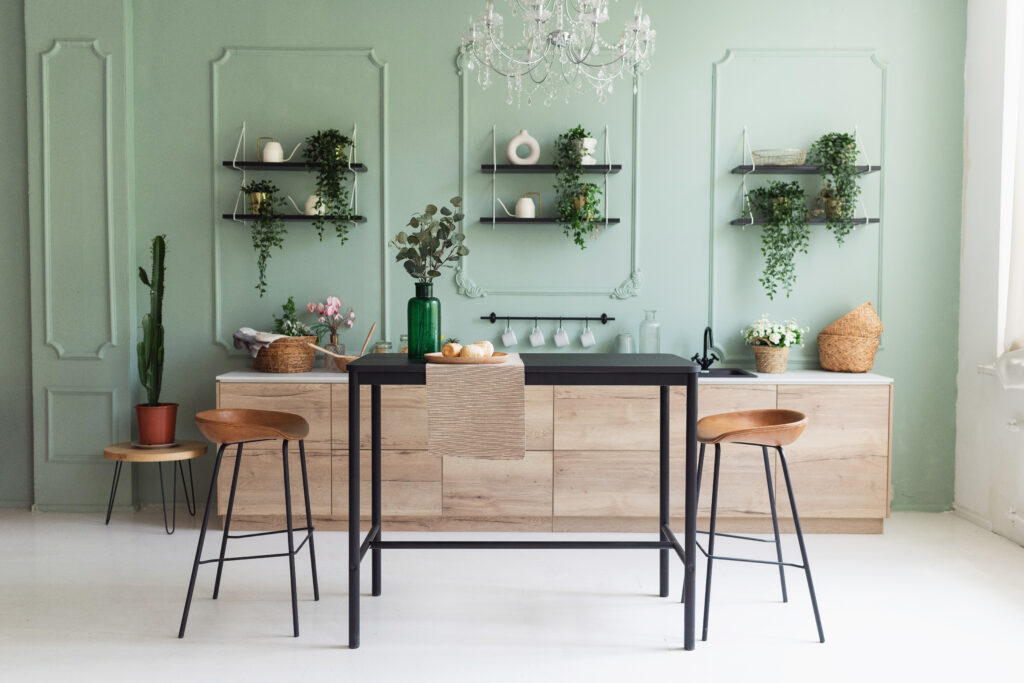 Warm colours
When looking for kitchen remodel ideas several years ago, you probably would have been inundated with stark whites, greys, pinks and beiges. However, the 2023 interior trends predict that colour is beginning to make its way back into the kitchen. Minimalistic, Scandinavian-style kitchens are starting to make their way out, and very organic, colourful, warm colours and tones are beginning to come in.
Multi-Temperature Taps
Multi-temperature taps are another of those kitchen remodel ideas that will help you conserve space by reducing the number of appliances you need. Rather than having a hot and cold tap, a kettle, and a sparkling water machine, a multi-temperature tap can give you everything with one simple appliance. They can provide boiled, hot, cold, chilled, and sparkling water with a simple turn of a dial. Modern contemporary kitchen design is all about multifunctionality and conserving space, and this type of tap will help you to do both seamlessly.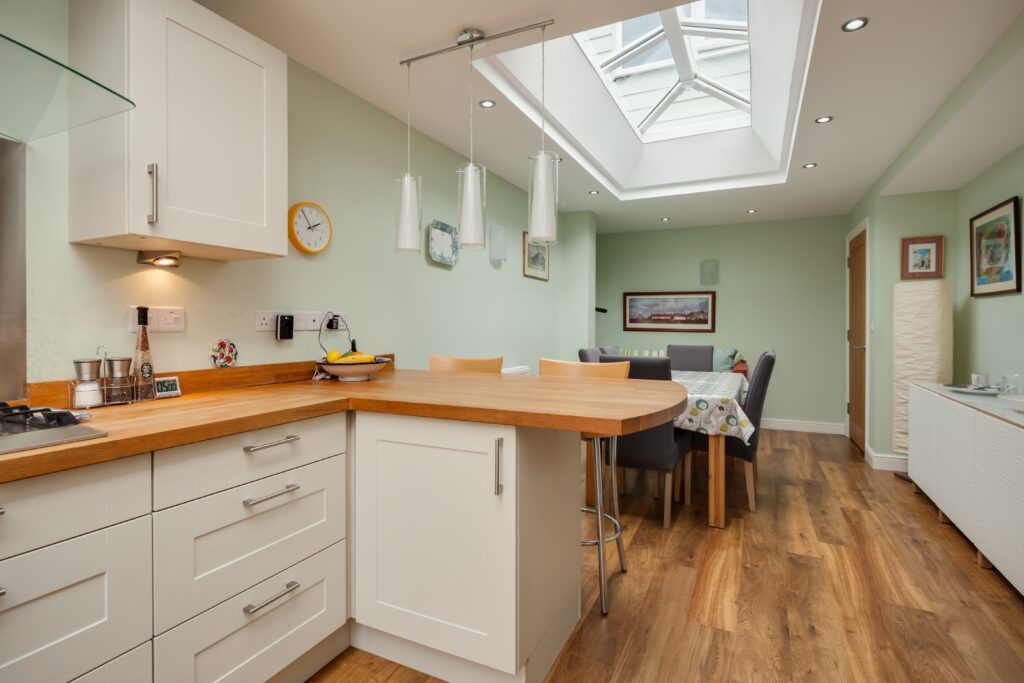 Rooflights
Artificial lighting, while helpful, is starting to fall out of favour in modern contemporary kitchen design. The focus is shifting to enhanced levels of natural light that a fixture simply can't provide. Large windows, especially those placed on the roof, are the best way to draw natural daylight directly into your kitchen, which is why we recommend installing a rooflight. Here at The Rooflight Centre, we have a variety of types of rooflights that will help to increase the levels of natural light in your kitchen and effortlessly brighten up the space. You could opt for a Korniche roof lantern, which will instantly illuminate your kitchen for far longer periods than an average window would. Or you could choose an opening rooflight to promote the circulation of fresh air and the aromas from your food.
Glass
Implementing glass, whether it be mirrors or glass-door cabinets, all great kitchen remodel ideas rely on variation and coherency, which glass can provide effortlessly. Mirrors reflect light and help it to travel further, creating a more illuminated kitchen, and they make a room look bigger, which is invaluable if you have a particularly small kitchen. Glass-door cabinets on the other hand help to break up the monotony that a series of cabinet doors can easily create. 
Rounded shapes
Rounded shapes are a staple of modern contemporary kitchen design and are a great thing to consider when weighing up different kitchen remodel ideas, as they help to promote the social aspect of your kitchen and create a more ergonomic space. Rounded tables are becoming more popular in kitchen remodel ideas as they allow you to gather with your loved ones without feeling cut off at one end of the table, and you have more choice with where you're going to sit and what angle you'd like to see your kitchen from.
Integrated appliances
Kitchen remodel ideas inherently call for something new that stands apart from the kitchen you had before. Integrated appliances can help you achieve this. Rather than taking up space on your countertops, integrating your appliances into the wall and concealing them can create a more ergonomic feel for your kitchen and achieve a sense of minimalism that wasn't there before.
Open shelving
Rather than storing your cups and plates away, create a display with them and show them off with open shelving. This can help to break up the monotony of your various cupboards and create a centrepiece for the wall that adds a bit of variation.
Have fun!
Your kitchen remodelling is your opportunity to do whatever you want with your kitchen. Just because certain trends are circling back around in 2023 doesn't mean you have to buy into them! Have fun with it and create a kitchen you're truly proud of and happy to be in.