If you're at a premium for space, building a kitchen extension could well be the answer to your problems.
One of the most popular building activities for homeowners in the UK is the kitchen extension, and this is because the kitchen really is the heart of the home and the potential for creating a wonderfully inviting and warm space is limited only by your imagination and budgets.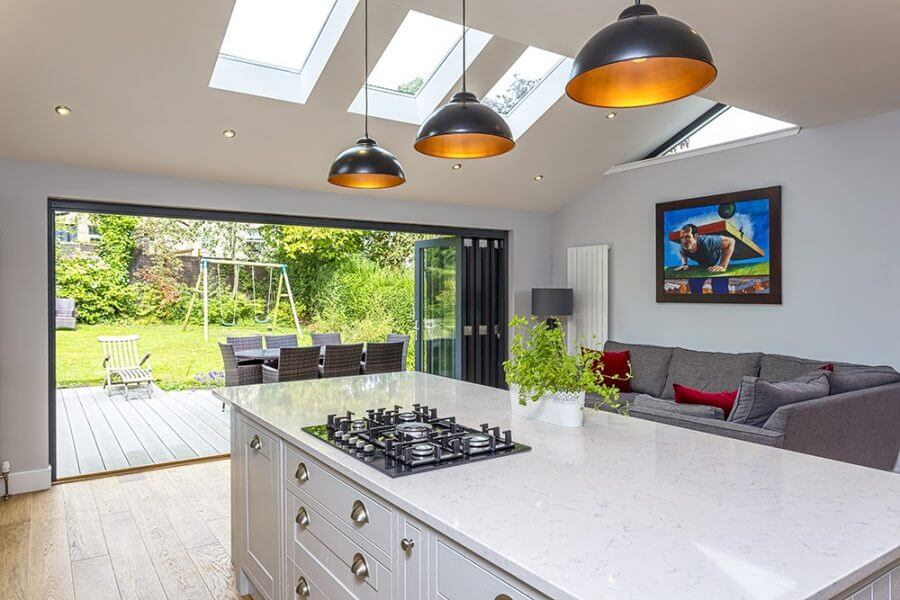 Focus on Interior Layout
The required space for your kitchen extension will depend on how you plan to utilise the area. Paying for too much, or too little space means that your extension will be out of proportion with the rest of your home.
Traditionally the kitchen is the beating heart of family life, where we cook, eat, work, socialise and relax, which is why open-plan or semi open-plan is the best way to make the most of your extended space.
The key to making the most of your extension is deciding how best to use the layout to your advantage – decide on styles, decorations and accessories after you've put together your expansion design.
It makes good sense to list which features you already have in the kitchen and then which you'd like to add, so your list could end up looking something like this, for example:

What Kind of Extension Do You Want?
With plenty of time and consideration, even the smallest kitchen extension can majorly impact your day-to-day lives for the better, since it allows you to rearrange the entirety of the current space to create something entirely new and simultaneously add value to your home.
There are ultimately a few different routes to take with the kind of extension you require; side return extensions are an option if you live in a semi-detached or detached home. Single storey extensions can also provide different options to be flexible with your kitchen – whatever you choose; it's just a case of making the most of the space.
Where Will the Extension Go?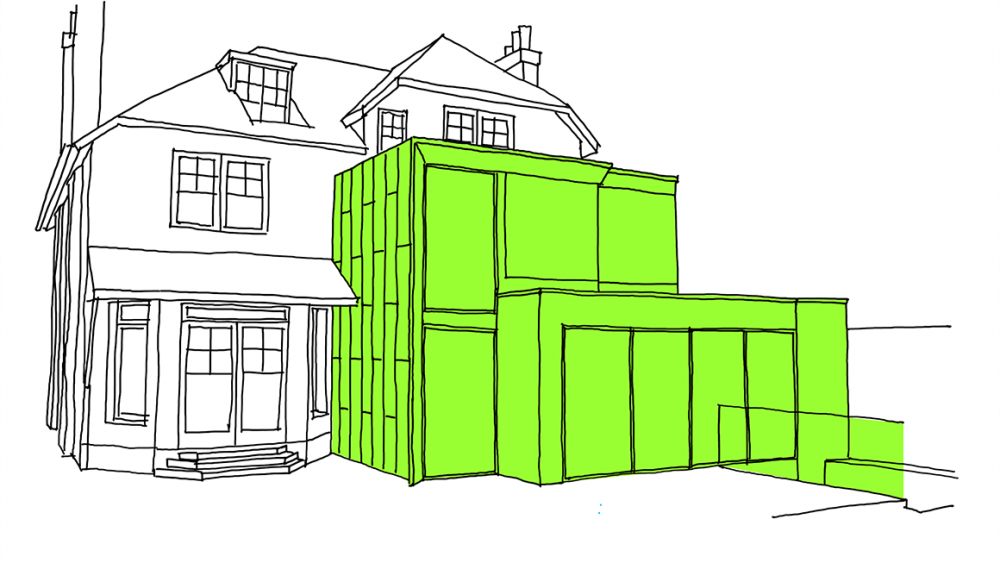 If you're looking to develop additional space for a sizeable, open-plan family room, the first step is to understand which part of your home would benefit most with more room.
As we've already mentioned you could extend to the side or at the rear of your home for added capacity; in a terraced property a side return extension – depending on boundaries – may be all you need for the kitchen you've always wanted.
In a traditional townhouse, a basement conversion with a light well leading up to the garden could look absolutely stunning.
Smaller extensions may not require planning permission if they fall within the category of permitted development. Large scale extensions, or additions to flats, will always need approval. Listed building alterations will, with no exception, require listed building consent, regardless of whether the work is permitted or not.
If you're planning on extending to the rear of the property, then it's essential to try to strike a balance between creating an optimised indoor space with as much outdoors as possible.
Create a Detailed Brief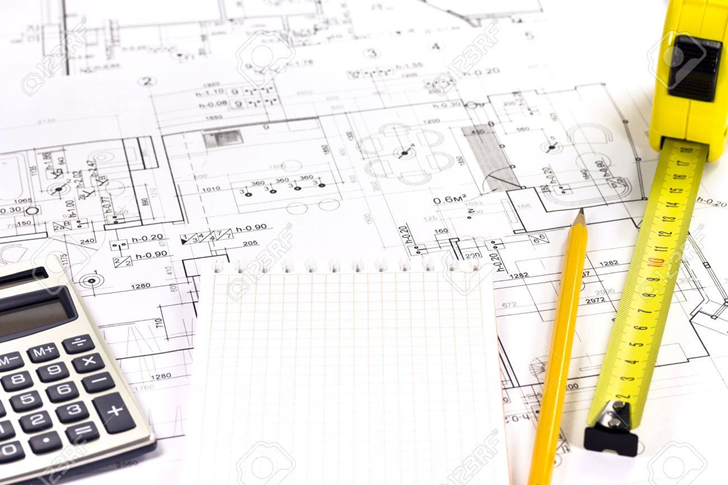 Sharing your ideas with an architect will give you a firm idea of where your constraints lie – after all, you need to create something that fits your lifestyle and requirements.
You should ask yourself the following:
How Will I Access the Extension?
As one of the primary rooms in your home, your kitchen should be accessible through the main hallway. This, ideally, should be as seamless as possible, which can be achieved with a good layout plan and matching interior decoration, such as flooring, for example.
How Will I Access the Garden?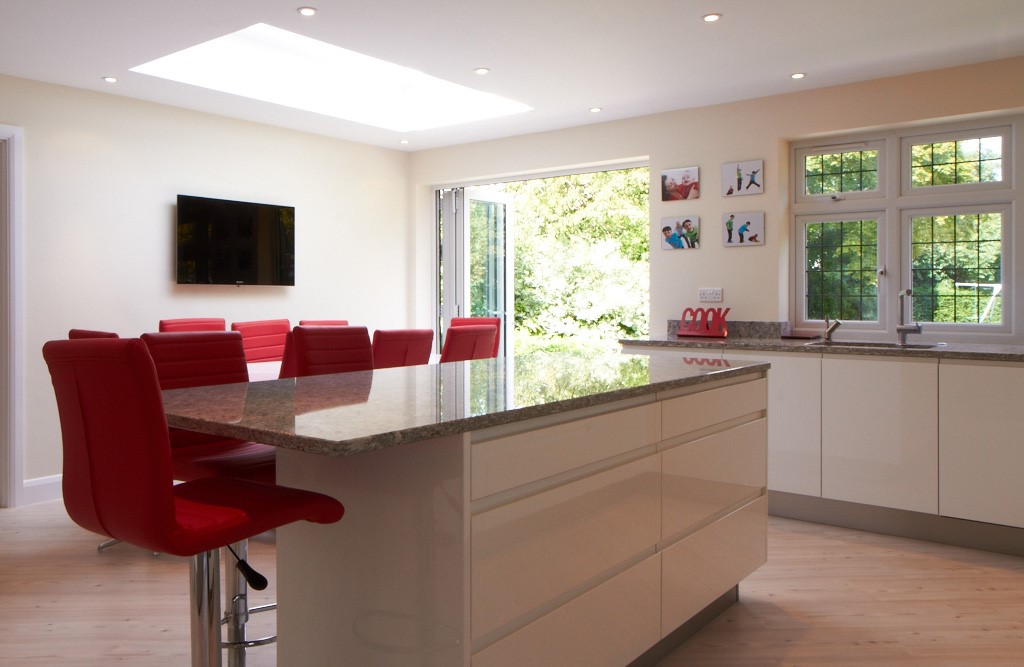 Adding doors which lead straight out onto decking or a patio will help to solidify the indoor-outdoor connection, which is particularly essential if you desire an outdoor dining area.
Consider the aesthetic relationship between the two spaces, as well. Whether you have patio doors, sliding doors or fixed glazing, it's vital to ensure you can enjoy the views of your garden.
Consider Glazing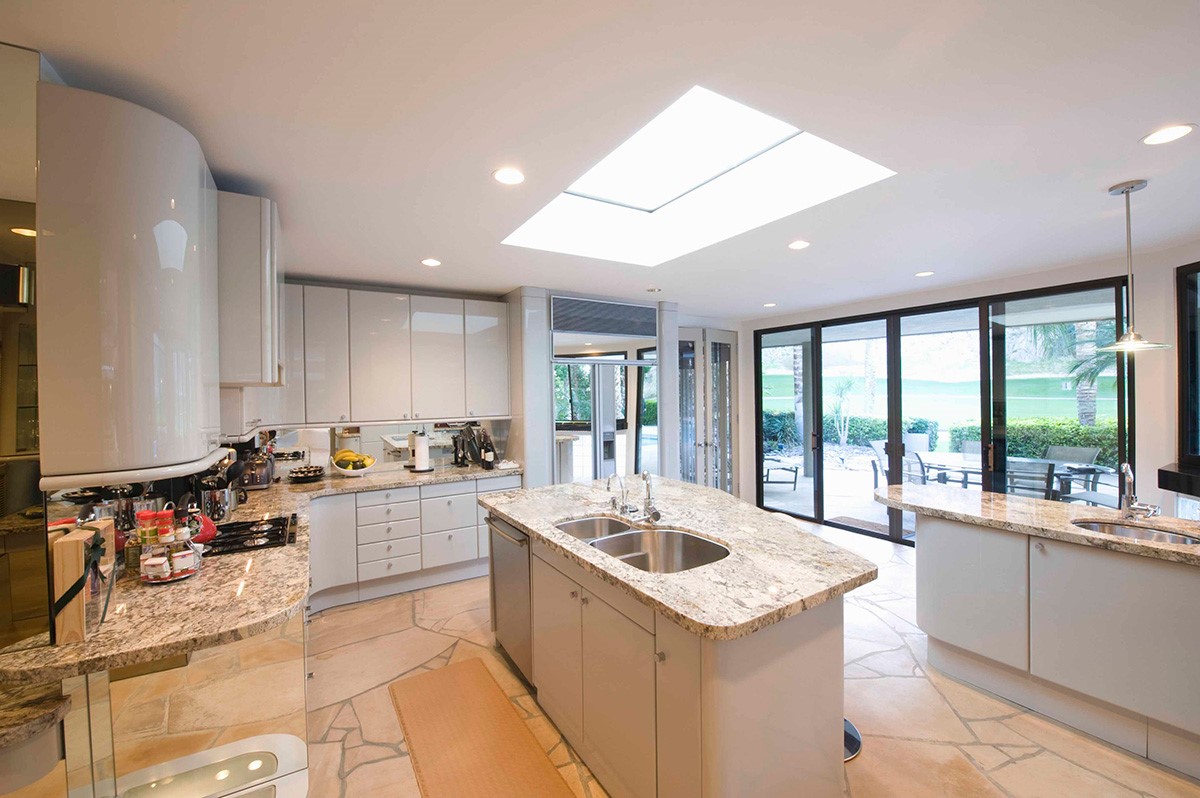 Once location and access are finalised, it's wise to consider how to make the most of the natural light.
This will give you an idea of where the light must be utilised in the kitchen, such as the cooking, dining and living spaces, plus any storage spaces, since the more glazing you have, the less wall space there be.
If the extension is south facing, you may wish to limit the glazing and opt to add the extra light in the form of a rooflight instead.
Exterior Appearance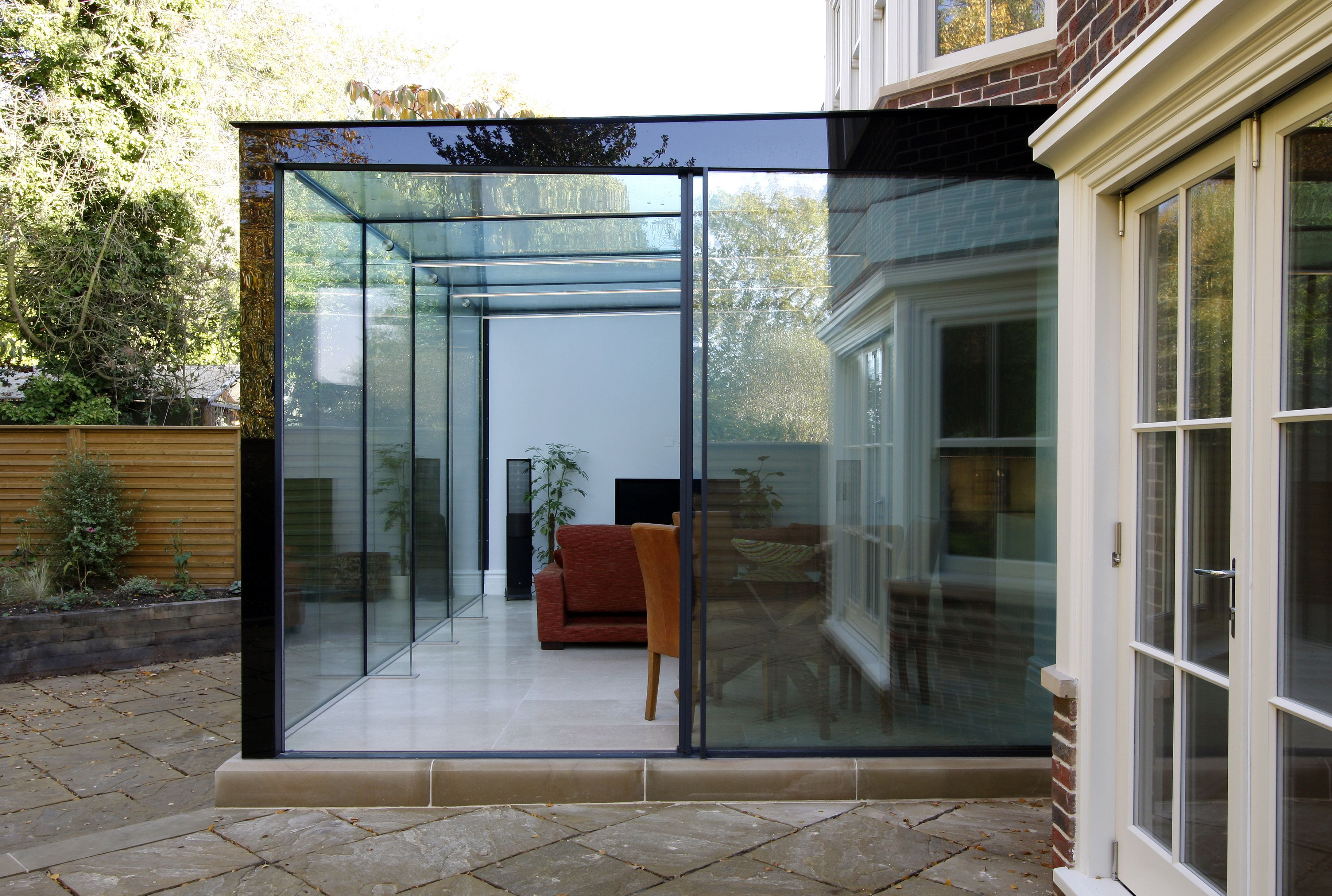 Be sure also to consider how your planned extension will look from an exterior perspective. You might well be spending a good deal of time making everything exactly how you want it on the inside, but if you neglect the outside, you'll never be able to create that seamless transition you've been looking for.
Think about whether you'd like your kitchen to match the current home exterior, or perhaps you'd like a traditional orangery or a glass box extension?
Plan the Layout
Once you've visualised the space, you can start thinking about the layout – and at this stage, it's worth chatting to your architect or designer, who can give you some ideas and use their experience to guide you.
Ensure you've got a clear idea before you move to the next step, for example, are looking for a galley kitchen, an L-shaped kitchen or would you like an island?
Generally speaking, though, it's a good idea to place the kitchen nearest to the original parts of the house and site your living and dining area nearer the brighter parts of the room.
What Else Should I Consider?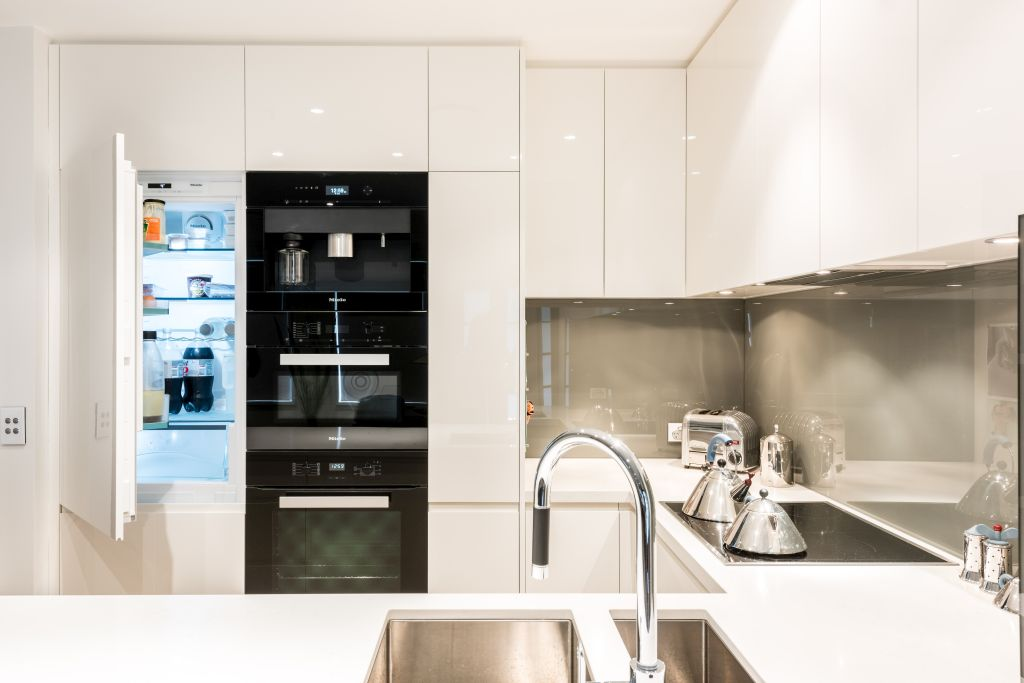 It's important to ask yourself the following:
Will my utility appliances be housed within the kitchen or in a separate utility room?
Will you opt for integrated cooking and refrigeration equipment?
Will the extension incorporate

rooflights

, a

vaulted ceiling

or both?
In terms of the practicalities, any good professional designer will understand how important functionality is and will consider this when bringing all of the ideas, wants and needs together.
Once your basic layout is agreed, you can start to decide on aesthetic styles, such as the finish of the cabinets and worktops down to the smaller details such as the sinks and taps.
When you've finalised a layout, chosen a style and find a supplier for your appliances and storage solutions, you'll need to get a detailed plumbing and wiring plan created so the builders can factor this into the building phase.
How Much Can I Expect to Spend?
Now all the whys and wherefores are in place; you can start to figure out what you might be able to spend on each element of your extension and make any changes in areas that you think might require scaling back.
Of course, there are so many variables when it comes to costs, but as a rough guide, you could expect:
– Building Costs – Plan for anywhere between £1,200 – £3,000 per m2 and upwards
– New Kitchen Costs – Anywhere between £17 – £200 per m2
– Painting and Tiling – Decorators don't come cheap, and the average in the UK for competent professionals is about £500. This is a step that could easily be performed yourself if you have the right knowledge.
– Flooring – Depending on the flooring type you use; you could be paying anywhere between £20 – £100 per m2. It could be more if you're planning to hire fitters.
– Building Regulation Costs – This depends heavily on the type of work carried out but expect to pay anywhere upwards of £200.
Extensions costs vary wildly depending on the kind of thing you're looking for, so this step is a must to ensure that you're operating within your budget.
Applying for Planning Permission
If your project falls under permitted development, as we've mentioned, you won't require any planning permission, but you may decide to apply for a lawful development certificate to ensure everyone is aware that your project is above board.
If you do require any kind of planning permission, you will need to apply to your local council, and you may require additional surveyance reports.
Whatever route you need to take, you will need building regulations approval. It may also be necessary to issue a party wall notice if you intend to build on or close to a boundary.
Hire Reliable Professionals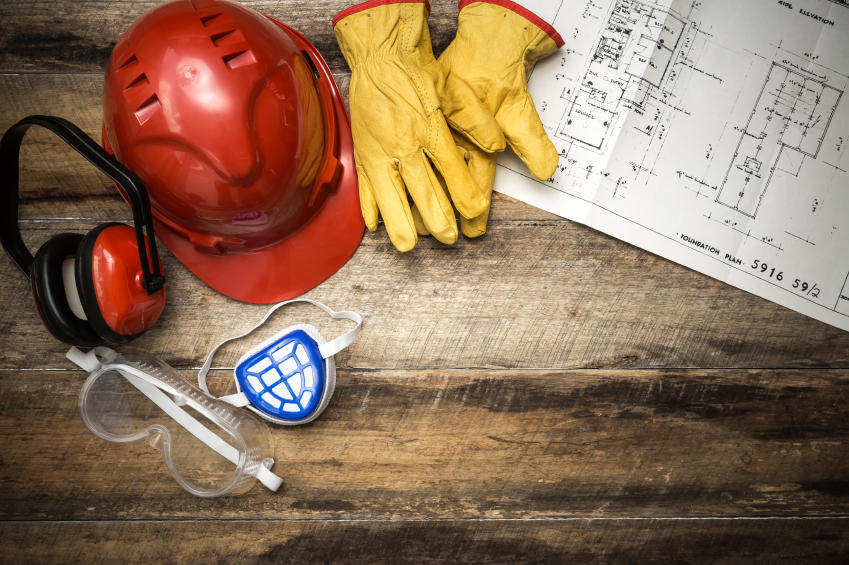 When it comes to hiring builders, it's imperative that you find reliable, competent professionals to work on your extension. Consider personal and professional endorsements, as well as trade bodies such as Checkatrade or the Federation of Master Builders.
Arrange to meet with at least three of the contractors vying for the work, to obtain estimates, which they'll be able to do after inspecting the drawings, plans and spec documents.
Kitchen extensions can be very stressful since they are at the very centre of a good portion of family life. A massive investment of time and capital is required to achieve the social hub of your home that you've always dreamed of, but even after the stresses and strains, the results are still worth the blood, toil, sweat and tears.
For more information about what we've covered in this blog or any other product in our range, contact us on 020 3695 2308 or drop us an email at rooflights@lonsdalemetal.co.uk.