With so many options on the market these days, it can be quite a puzzle to select the right kinds of glass for your project, especially for your rooflight. You should consider safety, solar and thermal efficiency, and balancing the initial costs with the potential advantages. In this blog, we will profile a few different kinds of glass to help you choose the right option for you.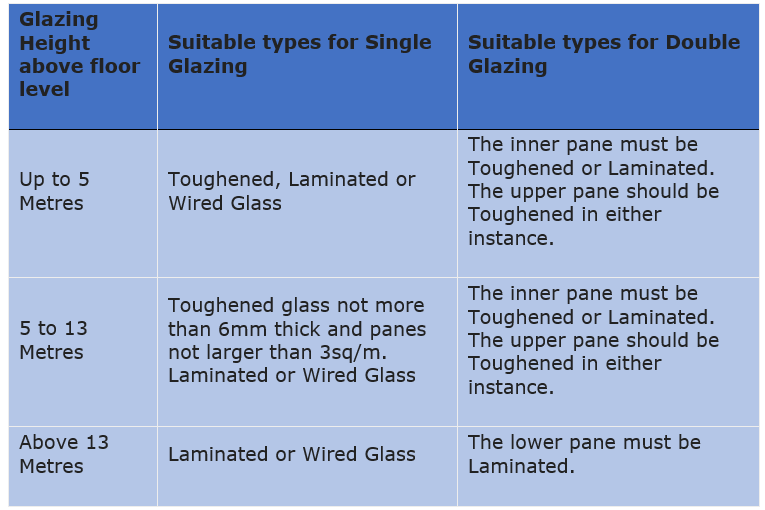 Safety
Safety should always be a top priority before undertaking any project that involves overhead glazing.
Here, we've compiled a table of which glass types comply with current building regulations:
Wired glass is often utilised for double-glazed skylights, but due to the higher risk of damage or breakages through thermal stress, advice should be taken from a sealed unit manufacturer.
We don't recommend using toughened glass in single glazing or the inner pane of a double-glazed skylight over food and beverage preparation units, swimming pools, or any other areas in which broken pieces of glass could cause contamination.
These scenarios call for laminated annealed glass or polycarbonate.
Double Glazing
In almost every case, the outer pane of double-glazed skylights must be toughened glass. The inside pane may be toughened or laminated depending on the location and distance from the ground.
Typically, two sheets of toughened glass offer the best economic scenario for domestic jobs in which the rooflight is less than 5 metres from the ground. If the height surpasses this, laminated glass should be used for the inner pane.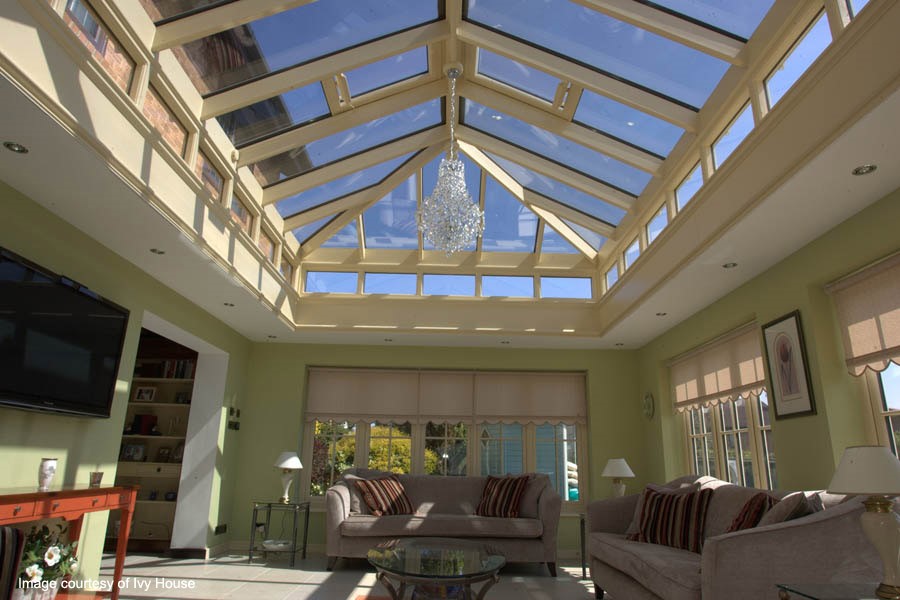 Performance
When it comes to performance, there are a few other considerations you'll need to mull over.
Low E Coating
Low E coating offers advanced thermal efficiency, which retains more heat within the property. There are two kinds of coatings available, from the standard 'hard' coat finish to the more popular 'soft' coat, which provides a central panel value of 1.2W/m2 when coupled with an argon gas filled cavity.
Anti-Sun Tinted Glass
This tinted toughened glass is often used as the exterior pane combined with a laminated low-e soft coat finish to offer the added benefit of lowering solar hear retention during the summer months.
Large Pane Rooflights
The most economic glass in most cases is usually 4-6mm thick, which can seldom be installed father than 1000mm wide, which is why you'll often see domestic roof lanterns and conservatory installations separated by glazing bars every 600 to 900mm.
But, with the current trend of flat rooflights, single pane rooflights can be installed up to 3m x 6m in a single pane of glass. However, this kind of work demands specialist construction and installation by experts with the appropriate skills and knowledge.
Triple Glazing
All of the glass types mentioned above can be combined within a triple glazed glass unit, which achieves both enhanced sound insulation and a U-value as low 0.60W/m2.K. Bear in mind the extra weight though.
Neutral Solar Control Glass
Neutral solar control glass has a specially created coating that provides improved solar control and appears more neutral in colour with a subtle greyish green tint. This glass is known in the industry as 70/30, which means that is provides 70% light transmission, but only 30% of the sun's heat enters the property.
For more information about what we've covered in this blog, or any other product in our range including Korniche Roof Lanterns, Walk-On Rooflights or Flat Rooflights, call on 020 3695 2308 or drop us an email at rooflights@lonsdalemetal.co.uk.