Homeowners often struggle to differentiate between the terms rooflight and skylight and can be unsure on the technical definition of each. This can make the process of choosing which one to install difficult because it is unclear which type is the best and the most suitable for their home. While there are variations of both rooflights and skylights, the purpose of each is the same; to allow more natural light into a specific room in the house.
There are several benefits of bringing natural light into room, including making a space appear more inviting, boosting the well-being of any occupants, and saving money on energy costs. We have put together the following guide to help you get to grips on the differences between rooflights and skylight and help you to know which is the best option for your home.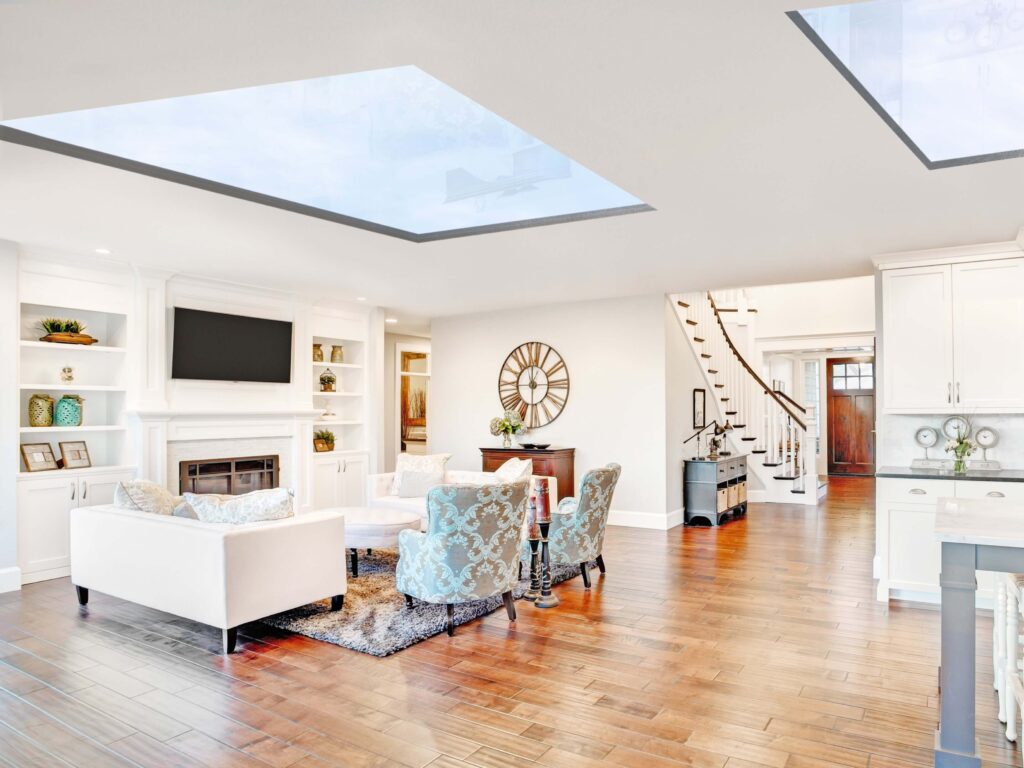 What is a Rooflight?
A rooflight is a glazed unit that is typically fitted within a flat roof or if installed on a pitched roof, it is a fitted out of plane with the level of the tiling. Rooflights often use a kerb system when fitted on flat roofs to enable enough height for water to run off. This type of window is available in a large variety of designs to help brighten and suit the style of any room in the house.
Rooflights are a great way to achieve additional natural daylight in a room without having to request planning permission beforehand. This is because it is agreed that rooflights do not need to alter the overall aesthetics of the building.
What is a Skylight?
They more commonly refer to windows that are installed on traditional style pitched roofs but can also indicate bespoke units installed on flat roofs. These glazed units are often extremely different depending on the type of roof that they are to be installed on. This is why the term skylight is often considered as very broad.
They are available in a range of different styles in order to meet the requirements of many different homeowners. As well as offering a significant amount of natural daylight, this type of window is often fitted with an electric motor to ventilate the room also.
And What Are The Benefits?
If you are a regular reader, you will be familiar with other articles in which we talk at length about the benefits of a rooflight installation. It offers a way to improve sustainability, and has a number of other rewards. These include: 
Improved availability of natural light without privacy compromises
Promotion of good health and mood
Improved ventilation
Maximising energy efficiency with the support of things like Low-emissivity Glass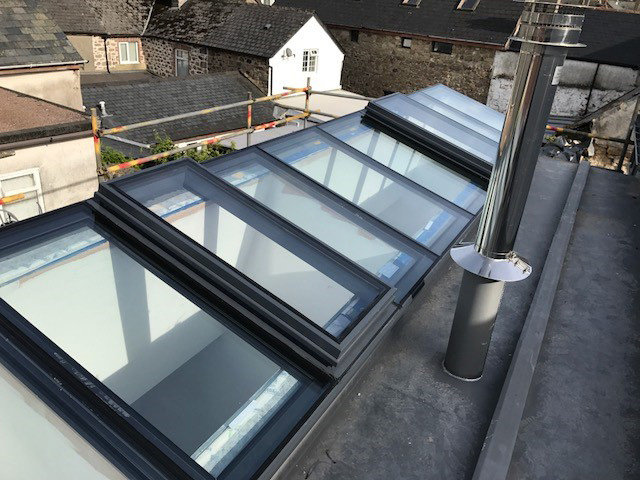 Types of Rooflight and Skylight
There is huge variety when it comes to these products, which makes them easy to match to any existing interior and exterior aesthetic. Typically, the most popular styles include:
• Roof Lanterns: Korniche Roof lanterns are a great way to transform any commercial or residential property and can help brighten up a room. This contemporary style of roofing can be customised to suit the needs of any building.

• Walk on Rooflights: This style of rooflight is popular for use on terraces where pedestrians are frequent. The units are designed with this in mind and are strengthened while still allowing a great amount of natural daylight into a room.

• Opening Rooflights: Opening rooflights help to both brighten and ventilate any room but help you to remain in control of the temperature by opening only to a specific point. This style is perfect for when roof access is not required and the window only needs a small opening.

• Electric Rooflights: Electric rooflights are the perfect solution to help brighten up a room as well as allowing ventilation. The electric hinges allow these windows to be controlled from a panel or remote which is ideal for installation on high, out of reach ceilings.

• Sliding Rooflights: Sliding rooflights have a mechanism which means that the window can support its own weight and eliminates the need for tracks. The ability to open the rooflight means that not only is the room full of natural light, but fresh air too.

• Sun Tubes: Ideal for awkward spaces, sun tubes are designed to direct natural daylight into even the smallest of rooms. Reflective tubing helps to direct this light which is then dispersed across the ceiling of a room and are a stylish solution to bring light into any room.
Materials
Another important step is choosing between glass or polycarbonate roof windows. Glass is the more traditional option and has a number of benefits including aesthetic, laminated glass is very safe, and the ability to choose the type of glazing which determines the level of insulation. On the other hand, others opt for polycarbonate windows due to lower prices, the strength of the material, and relative light weight.
If you do require further information on rooflights or skylights, or you're considering transforming your space with them, please get in touch with our experts who will be more than happy to assist you in your requirements or alternatively, browse our guides and brochures.